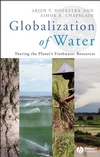 Globalization of Water: Sharing the Planet's Freshwater Resources
,
A.Y.

Hoekstra

and

A.K.

Chapagain
.
Blackwell Publishing
, .
2008
.
224
pages
.
ISBN 978-1-4051-6335-4
.
The global water crisis is manifested by ground-water overdrafting, water pollution, insufficient access to safe drinking water, and regional conflicts over inadequate water supply. Indeed, scientists, engineers, water resource managers, and other professionals worldwide are working hard to deal with these problems. This new book by Hoekstra and Chapagain is a contribution to these efforts. This book describes the effects of globalization on water resources management. To be able to do this, the authors introduce new indicators such as the water footprint and other related ideas. These parameters are calculated for the period 1997-2001. In this book, the authors have used material from their research group's earlier published papers in reputable journals. The Preface presents a good discussion on how this book differs from other similar books and why it is unique.
Chapter 1 starts with the assertion that people in one country affect the water systems of another nation because of global trade. To quantify these impacts, the authors use the already existing concept of virtual water defined as the water used to produce a particular good or service. They also conceive a water use indicator called the water footprint. This refers to the total volume of freshwater used to produce the goods and services consumed by an individual or a group of consumers such as a business or a country. If a nation suffers from water scarcity, its people can import virtual water by buying water-intensive goods (e.g., crops) from a water-abundant region. When this country has a net virtual-water import, this country has a water-saving. However, this global structure also tends to stress the hydrological systems of the exporting countries. One example is the emptying of the Colorado River. Also, the importing country might become water-dependent. These are the issues explored more extensively in subsequent chapters.
In Chapter 2, the authors discuss the methods used to estimate the virtual-water content of a commodity, such as crops and livestock products. Calculating water use for industrial products is challenging because standardized national statistics are difficult to obtain. They provide a list of estimates for several products. For example, it takes approximately 140 l of water to make a cup of coffee. Next (Chapter 3), they quantify the virtual-water transfers between nations as a result of trade in crops, livestock, and industrial products. Some countries have a total net virtual-import, and some have a total net-virtual export. However, this does not mean that those countries with a net virtual-water import only intend to save their scarce domestic resources because many factors are involved in global trade such as land availability, technological expertise, and subsidies. In Chapter 4, national and global water savings occur through international trade in agricultural products. Occasionally, however, international trade also results in global water losses. Although virtual-water import is definitely a solution to water scarcity, it has disadvantages, for instance, the country may become water-dependent and reduced employment in the agricultural sector is possible.
In Chapter 5, Hoekstra and Chapagain present the procedures on how to calculate the water footprint of a nation and then they proceed to compute for the water footprints of the nations of the world. They also suggest ways to reduce the water footprint, for example, by changing consumption habits or employing advanced technologies in harvesting rainwater. Chapter 6 tells us that Morocco (an arid-semiarid country) and the Netherlands (a humid country) have a net water-import. It is also explained why the trade balance of both countries is good. The next section (Chapter 7) shows an interesting case study. It is about the virtual-water and real-water transfers within China. The massive South-North Water Transfer Project is designed to transfer real water from South China to North China. However, this is ironic because water-intensive commodities are actually produced in the water-scarce North and these goods are sold to the water-rich South.
Chapter 8 deals with the calculation of the water footprints of coffee and tea consumption of nations. The virtual water contents of these stimulants are closely related to the stages of their production. In Chapter 9, the water footprint of cotton consumption is assessed. Here, the three components of a water footprint, namely, green water use, blue water use, and gray water production, are all included. The green water component comes from rainwater. That for blue water comes from surface and groundwater. Gray water is the polluted water that results from the production of the commodity. The last part of this chapter is devoted to the discussion on how the water-footprint indicator can be used to promote sustainable use of water. The water-footprint is a novel indicator because it considers water use in the production site rather than in the consumption site. Hence, it takes into account, for example, impacts on water quality and other externalities (e.g., soil erosion) that are not included in the price of the commodity. Chapter 10 presents evidence that many countries have become highly water-dependent because of international trade. As such, water has become a geopolitical resource. In the last section (Chapter 11), the authors outline several ways that water can be used efficiently, equitably, and in a sustainable manner through international trade.
This book is easy to understand. Ideas are direct and simple. Appendix 1 extensively outlines the procedures on how the authors calculated water footprints and related water parameters. These procedures have been published in peer-reviewed journals so I feel confident of the validity of these methodologies. The text is easy to read because the concepts and definitions are appropriately repeated so readers do not have to flip back to previous chapters to recall the definitions of terms. These terms are also comprehensively defined in the Glossary section so it is hard to be lost in the discussion. On the other hand, sometimes the discussions are unnecessarily lengthy. Occasionally, the authors deeply examine the appropriateness of terms, for instance, virtual-water trade versus virtual-water transfer. As a civil and environmental engineer doing technical work in the industry, these distinctions are hardly useful to me, but may be more important for practitioners of other fields.
In the Appendices, one can see that all the countries in the world have been included. I assume the reader might want to know the parameter estimates for his/her own country (water footprint, water-dependency, etc.). However, in the tables in this section, it would have been better if the authors had put gray color backgrounds alternatively for each row for easy reading. This is especially helpful when the fonts are small in tables showing many parameters. As I look at the estimates for my home country, the Philippines, I cannot help but feel surprised. I saw, for example, that my country has a net import of virtual-water. I know that it rains in the Philippines for half of the year; these are heavy rains, not just trickles. Why do we not have enough water? Maybe we cannot afford to implement advanced technologies? Maybe we are overpopulated? Maybe water resources have not been given enough priority in the national agenda? This is indeed a complex issue that Hoekstra and Chapagain mentioned in this book but did not comprehensively explore.
I look at the other parts of the book and notice that the Table of Contents is too busy. The authors should have used something to distinguish the main entries (e.g., bold fonts, italics). With regards to maps, they are easy to read because they use standard cartographic procedures like using a bigger arrow for showing a larger quantity or darker colors for depicting attributes with bigger quantities. Although in a few maps, the fonts can be too small to read. Figures are simple and straightforward. In the References section, I notice most of the materials are dated 2000 and later. This is not surprising as the authors affirm that this is a new field of knowledge and concepts are coming from new materials.
I recommend this book to people interested in water sustainability, for example, economists, water resources managers, policy makers, and people interested in upholding environmental justice. This does not look like a good textbook for a class; the book may be too specialized, and the book is too thick. However, one or two journal papers produced from these studies are a good reading material for an undergraduate class in Environmental Science. Undergraduates are generally familiar with the idea of the carbon footprint and can therefore appreciate its water equivalent. Graduate students in environmental management, law, and policy will benefit from knowing these concepts just by reading even one published paper. At the University of California, Los Angeles (UCLA), for instance, there are graduate classes entitled "Business and the Environment" and "Quantitative Methods for Environmental Assessment and Decision Making." Students from these classes will surely be interested in this new field of knowledge.
Lourdes V. Abellera, Ph.D.
MWH Americas, Inc.
618 Michillinda Avenue, Suite 200
Arcadia, California 91007
Editor's Note: Additional book reviews may be found in AWRA's bi-monthly journal JAWRA. If you would like to be a book reviewer for JAWRA please contact editor@awra.org.